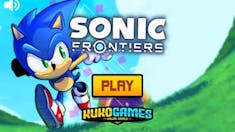 Sonic Frontiers
Sonic Frontiers is an exciting platform game that brings the classic gameplay of the classic Sonic franchise to modern audiences. Players will guide Sonic through a series of levels filled with enemies, traps, and power-ups, all while collecting rings and using Sonic's speed to overcome obstacles. The graphics are stunning and the sound effects are fantastic, making the game an immersive and enjoyable experience for players of all ages.
In addition to the classic Sonic gameplay, Sonic Frontiers also features new elements and challenges that will keep players engaged and on their toes. With a variety of levels to play through, players will enjoy hours of fun and challenge as they work to complete the game and save the world from the evil Dr. Eggman.
If you're a fan of the classic Sonic franchise, or just a fan of platform games in general, Sonic Frontiers is a must-play. With its great graphics, fun gameplay, and challenging levels, it's sure to provide hours of fun for players of all ages.
Category: Arcade
Played: 16938
Category: Arcade
Played: 16938