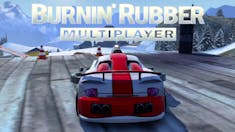 Burning Rubber Multiplayer
Burnin' Rubber 5 XS is a racing game with high-octane combat. By any means necessary, climb to first place. It's up to you whether you do this by boosting or burning your opponents. As you progress through the stages, you'll be able to unlock a variety of destructive weapons and vehicles.
Burnin' Rubber 5 XS Weapons Destroy your rivals to rise to the top. You can pick from a variety of primary and secondary weapons in Burnin' Rubber 5. These weapons can include deadly bouncing mines, homing missiles, railguns, and homing missiles. Make commotion with them.
You'll gain ammo, repairs, and boosts as you race through the track and bulldoze your opponents. Because there are numerous upgrades scattered throughout the tracks, this is not a game to be played cautiously. Wreak havoc and relentlessly bombard your adversaries.
Category: Racing
Played: 1214
Category: Racing
Played: 1214