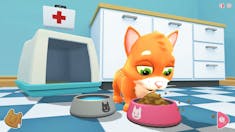 Kitty Cat
This is the best cat game for you, Kitty Cat!
As you progress through the game, you'll meet new kittens and take care of the cutest ones. You won't ever get bored with Kitty Cat because there are a variety of minigames to play and new challenges to overcome.
Download now to begin your entertaining and engaging journey with the kittens, which is ideal for cat lovers.
Obtain a wide range of Cat Manager cards!
Upgrade the craft skill of your Cat Managers!
 Create a variety of designs, from basic to elaborate!
"Reach out to customers with the furniture!"
After completing all of the steps, you can earn Cat Coins to use to decorate cats! Upgrade each room's furniture and ensure that all crafting steps are carried out without a hitch.
Come check out our Craftsman Cats in action.
It will be the most joyful and tranquil scene you have ever witnessed!
Category: Girls
Played: 1129
Category: Girls
Played: 1129