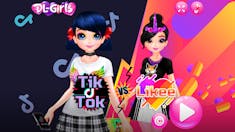 Tiktok Girls vs Likee Girls
Marinet and Milana are modern princesses looking to stay on top of all the newest fashion trends, actively engaging with social networks. Marinet is a fan of TikTok; she loves to sing, dance, and produce mini-videos. On the other hand, Milana is a fan of Likee and often uses it for hair and makeup tutorials, as well as trying out fun skins. What app is best? Join these heroines in their game "TikTok Girls vs Likee Girls" to find out!
The object of the game is to customize a character by dressing them up – you can choose between a variety of clothing and accessories, or create custom looks. The character has facial expressions and poses to choose from, so you can go for a realistic design or something more cartoonish.
Features ;
Variety of hairstyles
makeup options
No time limit
Creativity booster
Easy and addictive gameplay
Category: Girls
Played: 982
Category: Girls
Played: 982