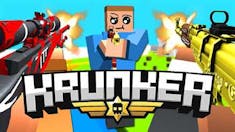 Krunker.io
Krunker: Join Millions of Players: the best FPS game for all platforms.
You can play Krunker with the Krunker Client for Mobile, which is optimized for mobile screen sizes and performs similarly to a desktop version. Get a high frame rate and personalize your controls as you go. You can compete with anyone because the Krunker Client has special features built in. Without leaving the game, precisely adjust your layout with sliders!
-From any location within the app, tap the floating button to open the mobile tools window.
- To change the vertical and horizontal positions of each button, use the sliders. The buttons' opacity and size can also be changed.
- If you are using a controller, you can either completely hide or change the transparency of each button.
- Modifications to the button layout are saved by default. By clicking the "RESET" button, you can reset to the default settings.
-Additional built-in features like the restart button make finding a new lobby, altering graphics settings, and troubleshooting easier.
Category: Shooting
Played: 1377
Category: Shooting
Played: 1377