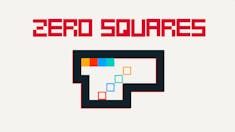 Zero Squares
Game that is challenging but easy to play. Just tap on the blocks.
Enjoy a straightforward but fun puzzle game! You won't stop playing once you begin.
HOW TO PLAY: • Pay attention to the color in the center; • Tap the blocks of the same color; • Don't make any mistakes—you won't be penalized; • Complete the game in less than 60 seconds.
Features: A game with simple rules; 100 levels, 20 of which are hidden; simple, elegant graphics; music and sound effects; hours of fun and excitement
Zero Squares is one of the most well-known puzzle games and is a very interesting one. It features 3D artwork and addictive gameplay. Your objective in the game is to direct a square that can move straight. Your objective is to direct the square to slide along a variety of trajectories before directing the small square to reach the goal. It's important to note that the small square won't stop before it comes across anything. To finish each, you need to use this feature.
Category: Puzzle
Played: 631
Category: Puzzle
Played: 631