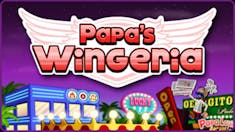 Papa's Wingeria
Embark on a culinary adventure at GameGab.com with "Papa's Wingeria".
Take flight as the new manager of this popular fried chicken restaurant and soar to success with
your culinary skills.
With each order, feel the rush of excitement as you fry the perfectly seasoned chicken wings to
golden-brown perfection.
Let your creativity take flight as you drizzle on the most mouth-watering sauces and arrange the
wings with artistic flair on each plate. Delighted customers will reward you with generous tips,
making your culinary journey all the more fulfilling.
So come on, join the action at GameGab.com and let the feathers fly with "Papa's Wingeria".
Get ready to experience a feast for the senses.
Category: Arcade
Played: 609
Category: Arcade
Played: 609