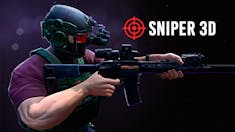 Sniper 3D
Sniper 3D, a multiplayer FPS game available on GameGab.com, takes you on an action-
packed journey to become the world's best sniper assassin.
With a variety of game modes, from the Sniper Story Campaign to Squad Wars, you can enjoy
endless hours of fun. With over 150 sniper rifles, guns, and weapons to collect and upgrade,
you can build the best weapons to take on the enemy.
The ultra-realistic 3D graphics and intuitive game controls add to the excitement. Play with
players from around the world in online mode or go offline for tactical missions. Save hostages
and prove your metal as the army's top sniper assassin.
Join Sniper 3D today and experience the thrill of becoming the ultimate sniper shooter on
GameGab.com.
Category: Shooting
Played: 2404
Category: Shooting
Played: 2404