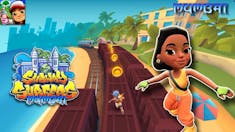 Subway Surfers Mumbai
Subway Surfers Mumbai is a thrilling and fast-paced endless running game that takes place in the bustling streets of Mumbai, India. The game follows the protagonist, Jake, as he runs through the city streets, dodging obstacles, collecting coins, and jumping over trains. The graphics are stunning and transport players to the vibrant city of Mumbai.
The game also features exciting power-ups, such as the coin magnet, which attracts coins to the player, and the hoverboard, which allows the player to glide over obstacles. The gameplay is challenging, yet addictive, and players can compete with friends for the highest score.
Whether you're a fan of endless running games or just looking for a fun new game to play, Subway Surfers Mumbai is a must-try!
Category: Action
Played: 21376
Category: Action
Played: 21376