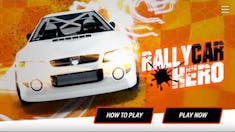 Rally Car Hero
Step into the adrenaline-fueled world of Rally Car Hero, only on GameGab.com!
Put the pedal to the metal and show off your driving skills as you race against 17 cunning AI
opponents on 4 distinct tracks, each with its own unique challenges.
Master each track's terrain, avoid obstacles, collect coins, and customize your ride for an even
more exciting experience.
Will you be the first to cross the finish line and claim the title of Rally Car Hero?
With breathtaking graphics and heart-pounding gameplay, Rally Car Hero will have you on the
edge of your seat from start to finish.
Developed by b10b, an independent studio based in Vancouver Island, Canada, Rally Car Hero
is a must-play for anyone who loves high-speed racing games.
So, gear up and get ready to conquer the tracks on GameGab.com!
Category: Racing
Played: 4554
Category: Racing
Played: 4554